Paladin Guide
From EssenceRO Wiki
Paladin Guide
Author: Praetor (Forum Link)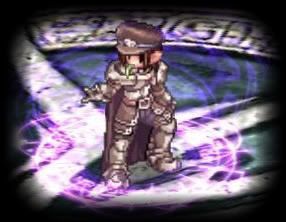 Introduction
Hello Essence RO, my name is Praetor and I'll be providing a Paladin Guide to those of you who choose the way of the Paladin. I'll be discussing the various styles of play, different methods of leveling you can do while training, and the different types of Gear you can get while you are your way to be one of the most feared classes out there. The items I will input won't be too near end game status but merely something that is of common value and everyone tends to get. My style of play will not be your style of play, so nor will I include "End Game" builds when you reach Max 170, but merely inform you of what stats you should get and you will have to adjust to the situation and only you can decide that to best meet your comfort zone. I will only imply what direction you will want to aim for when you are deciding your build. Anything you may not find in the Build Sections of the guides you may find later on in the guide. I will mention where to go to find more info on a particular aspect if need be. Alright, so here it goes!
Change Log
October 01, 2008

Condensed the Equipment in Spear Quicken and Grand Cross, so it will be easier to read and understand.
Added a bit more Pictures for each skill in the Skill's Section for Spear Quicken, Grand Cross, and Shield Chain/Boomerang to better demonstrate what each Skill does/looks like.
Added in the Link to do the Shrink Quest. Forgot about it when I was finishing up.
October 02, 2008
Condensed the Equipment's section for Shield Chain, Martyr's, and Devotion, so it will be easier to read and understand.
Added Pictures for Martyr's and Devotion to better portray what each skill does/looks like.
Fixed a few typos in Grand Cross.
Added Max Levels to the all the Skills under the Skill Info section.
Added more info in the Leveling section for Spear Quicken and Martyr's.
Bit of Info in PvP section.
October 14, 2008
Added more Info to Spear Quicken Equipment section.
Added more Info to Martyr's Reckoning Equipment section.
Fixed a mistake on my part for card combo setup in Shield Chain Leveling section. Other words, I explained the correct format.
October 19, 2008
Added more and Fixed up Equipment sections a bit.
November 4, 2008
Fixed up the Equipment Sections for the Builds.
December 17, 2008
Thanks to Aenthin/Hammer for condensing the guide down into Charts and cleaning it up a bit.
June 30, 2009
Updated the "Build" Section for the kinds of equips you can get that would be ideal for the Spear Quicken build.
Breakdown of the Paladin
The Paladin, or Pally, is a class that is best known as defenders of the light. This holds true for their ability to bring down hordes of Demons and Undead with their powerful Holy skills. A Paladin's main purpose in game play is the defensive support role, with their mighty shield skills, their ability to take damage for their friends/allies while buffing them along the way, or to deal punishing blows to those who dare slip by unannounced. This doesn't go to say that they can't be the offensive type; if you're that type of person, as one of the greatest sayings in history goes, "the best defense is a good offense." Once you understand this fine point, you can then fine tune and become a formidable opponent whether it be PvE, PvP, or WoE. Paladins have a vast array of Skills and Builds that you may fancy but any one of them can suit anyone's need, one way or another.
Paladin Builds
Now that you hopefully got the idea of what a Paladin is and his role during game play, I will go into the different builds that you may encounter and maybe use later on during your days as a Paladin. First and foremost, not all the builds of a Paladin are equal and none will be that much more powerful than the other. They all have their advantages and disadvantages, and are only best suited for a particular situation, some for leveling, some for support, and some for dealing the most grueling of damage.
There are particularly 5 builds that you can use as a Paladin. Most of these builds are intertwined with other skills and builds to become even more effective and versatile but these are the major 5 builds you would usually see others using. These 5 builds are as follows:
Agi Spear Quicken
Grand Cross
Shield Chain
Martyr's Reckoning
Devotion
When I'm discussing the builds, I will mention the other skills that would be best suited for the particular build. Only you can decide what you want to be, I'm just throwing ideas out there for you.
Agi Spear Quicken

The Agi Spear Quicken build is a pretty straight forward and overall easy build that is mainly affected by your ability to deal damage at a high rate of speed and, while doing so, dodge/parry attacks from your enemy. I consider this the best leveling build for any new player that is trying out the Paladin for the first time, starting fresh on the server, or isn't able to acquire adequate gear for the other builds. It is simple and easy, but because of its simplicity, it is not very attractive in terms of action but it gets the job done. This skill is more intended for leveling than PvP or WoEing, since you aren't protected with your Shield Skills and become vulnerable, other than your Flee. You should only stick with this for leveling or maybe even farming.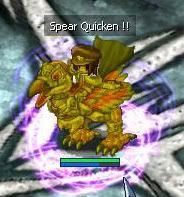 Build
Now, the main focus for the Agi Spear Quicken build is that you try to build up on the Agi stat to get high Aspd and dodge so you won't have to spend so much into Vit. In your early stages of leveling, with this build, you won't have a lot of Str to do so much damage but your attack rate should make up for it in the end. You won't need any high end amounts of Dex because you won't be casting anything but you do need a sufficient amount so you can hit whatever it is your attacking. So the only major stats you will need are Str, Agi, and Dex. Here is a rough sketch of how much you'll need when you first start off:
Str: 40~50
Agi: 90~100
Dex: 45~55
For equipment, you want to focus on gear that increases Agi and Str.
Class
Equipment
Cards
Upper Headgear
MDEF Valkyrie Helm
ASPD Valkyrie Helm (1)
ASPD% Valkyrie Helm (1)
ATK Valkyrie Helm (1)
HP Valkyrie Helm (1)
DEX Valkryie Helm (1)
Baphomet Horns
Vanberk
Nightmare
Seyren Windsor
Gibbet
Status Resist Cards
Gemini-S58...
Elemental Resist Cards
Gierth..., Permeter (Combo)
Lower Headgear
Tiamat Wings
Angel Wings
Elemental Wings
Blue Butterfly Wings
Red Butterfly Wings
Bee Wings (1)
Weapon
Ahlspiess
Brionac
Zephyrus (3)
Phantom Spear (1)
Ivory Lance
Trident (3)
Golem, Marie Heinrike
Howard Alt-Eisen, Assaulter (Combo)
% Modifier Cards
Race..., Size..., Element...
Status Inflicting Cards
Breeze...
Armor
Diablos Armor (1)
Gilded Armor (1)
Meteor Plate (1)
Legion Plate Armor (1)
Padded Armor (1)
Silk Robe (1)
Life Link (1)
Elemental Armors
Claytos Cracking Earth (1)
Aebeccee's Raging Typhoon (1)
Lucius's Fierce Armor of Volcano (1)
Saphien's Armor of Ocean (1)
Marc
Archdam Combo Set
Peco Peco
Goat
Solider Combo Set
Elemental Armor Cards
Bathory...
Status Inflicting Cards
Dark Frame...
Garment
Diablos Manteau (1)
Gilded Spaudlers (1)
Valkyrie's Manteau (1)
Crest of the Rider (1)
Wool Scarf (1)
Falcon Muffler
Whispering
Whisper, Whisper
Aliot, Kapha
Resistance Cards
Raydric...
Footgear
Diablos Boots (1)
Variant Shoes
Life Tree Wooden Shoes
Black Leather Boots (1)
Tidal Shoes (1)
Fricco's Shoes
Verit, Green Ferus
Gold Acidus, Matyr
Megalith, Freezer (Combo)
Accessories
The Sign
Horn of the Buffalo (1)
Armor Charm (1)
Swordsman Figure (1)
Collector's Edition Book (1)
Gauntlet of Hit (1)
Kukre, Mantis
Horong, Errende Ebecee
Alligator, Heater (Combo)
Leveling
Agi Spear Quicken build is a great build to go with especially when you level by yourself. If your geared with Agi boosting gear, you won't have to worry too much about your HP going down. Your dodge will kick in more than not and even if they do hit you, you still have the HP due to your class to back you up. If you plan on partying, you can party with just about any player whether they are Healing, Supporting, or Dps. When you are by yourself, don't get mobbed so easily because your Flee rate will go down per monster that is attacking you. Make sure to go after the weakest one. If you have available Bash or Holy Cross, use them to bring down a mob quickly. If you are partied, make sure to have the mobs attacking you instead of the healer or support. With another Dpser, you may just going separate ways while gaining experience moderately and at a good pace.
While leveling, continue to put into the Agi stat. Once you hit 150ish Agi, or whatever area you feel comfortable with, you'll need to start pumping into Str to increase your damage. Then, if you want, you can start putting into Dex to increase your Aspd to attack even faster but the Dex is mainly for just hitting and it won't boost your Aspd that much. Vit would be the alternative to this so that you can survive when being mobbed. Putting into Int would allow you to use Bash/Holy Cross more.
Useful Skills
Spear Quicken - The core skill for the build. Increases your ASPD for "Two-Handed" Spear Weapons. As a custom change, also increases STR-based ATK and Movement Speed, which is handy in case you get mobbed. You are able to get this skill fairly quickly when you first start off. It requires only 20 Skill points to get maxed, so not too much is wasted on it.
Spear Mastery - Allows for more damage while riding a Peco.

Bash - Additional means of delivering damage at a fast rate of speed.

Holy Cross - Additional means of delivery damage at a fast rate of speed. Use mainly on Undead and Demon type due to Element/Class type allowing for even more damage.

Riding - Allow for quicker movement speed. Combined with Spear Quickens additional modifications, you'll really be moving making leveling a breeze. Also, readjusts your size modifications against Medium size to 100% instead of 75%.

Cavalry Mastery - When riding a Peco, get this skill to Max to ensure you don't lose any Aspd.

Fatal Blow - Helps Bash to be more effective to those who are most vulnerable to Stun.


Demon Bane - This helps increase damage against those of Demon/Undead type, so be sure to add to this when you are in an area of those classes.

Grand Cross

Ah Grand Cross, if you love mob leveling by the dozen, then Grand Cross is the skill for you. This skill can be very lethal to both enemy and user, but used proficiently, you can take down hordes of monsters and gain Exp in mass bulks. This isn't a personal favorite but would definitely recommend this to those who like mobbing for Exp. Grand Cross is a combination of both Atk and Matk values, and then combined with the Element of Holy. If you can master this skill, you can master any mobbing skill due to what you need to make this skill even worth while. This isn't the easiest of builds to use because its purpose is to mob and deal damage. Collect to little, you pretty much waste its true potential, gather too many, you'll be kissing dirt. Grand Cross isn't essentially a PvP or WoE build either. You have to have your opponents up close to you and that is quite difficult if your going against ranged or magic class. But none the less, this Build does perform wonders.
Build
The Grand Cross build can and will take a lot of your stats, yet it produces a powerful attack. The stats you would be focusing on are Vit, Int, Dex, and little bits of Str. I wouldn't bother messing with Dex at your early stages or not until you gain a sufficient amount of Int, due to amount of Dex needed to acquire for Insta-cast, it would just be wasting valuable stat points. This skill is intended to deal punishment, so focus more on Vit and Int for damage. When you are able to use this skill, here is an estimate of what your stats would look like:
Str: 20~30
Vit: 60~70
Int: 80~90
With this, you'll have a higher amount of HP and more Int to Heal yourself but cast will be horrible. The reasoning for low Dex is you'll have to Train Mob level with Grand Cross. What that means is that you'll be gathering your mob and have them follow you until you get a good enough distance to cast Grand Cross. That way, they aren't on top of you and doing even more damage than what you really need. Look below for a better representation:
For Equipment, it may be hard to come but here is what you'd want to look for. Try get gear that pertains to Int, Dex, and Vit.
Leveling
Leveling with Grand Cross may seem a bit tedious when you first start off but as you gain in level while using this skill you get a better understanding of what you have to do and you'll be slicing through your enemy without breaking a sweat. The key points you want to know about Grand Cross are these:
Mob Controlling - Now the one thing you'll want to understand about mob controlling is your gonna have to know your limitation when gathering your mob to mow down. "Grab too little, you loose the full potential of the skill; grab too many, you'll be kissing dirt." Now, the how much you can get depends on where you are going. The info for where to Level will be mentioned in the "Leveling Spots" section of this guide.
When to Cast - Of course you want to cast it when there is a huge mob on you. But remember, if you went with no Dex, you'll be casting really slow and you'll be losing 1/3 of your def and being hit when this happens isn't pretty. So you want to do is get some distance between you and your mob. This is called Train Mobbing. Your range with Grand Cross is pretty big. It's about 4-5 cells to all sides (all sides meaning Front, Back, Right, and your Left and it would look like a Cross hint: Grand Cross) of you outwards. So get some distance and unleash Grand Cross on your victims. If they don't go down the first time, you'll have to get out the mob quickly and start again. Make sure you have endure on so you can get out of the mess.
When to Heal - It is in your best interest to at least have Heal on you when dealing with Grand Cross cause you will lose HP, period. For obvious reasons, you will be healing after every mob you gather. But if you happen to need a heal during a mob, you will want to get out of the mob and heal yourself while keeping a distance from the mob. You shouldn't have to heal so much during mobbing but if it does happen, just be ready to run and heal. If you can out heal their Dps then by all means, be a dare-devil and heal away but you are still gonna have to get out of there, considering if you have low Dex.
Useful Skills
Grand Cross - The core skill of the build. It is a blend of your ATK and MATK, dealing holy element in a cross-shaped area.

Faith - Added Hp to survive yours and mobs attacks. Reduce the Holy Damage from Grand Cross.


Heal - Used to replenish lost Hp. Also, if dealing Undead, is another means to deliver punishment instead of Grand Cross, save Sp and time.

Riding - Allow for faster movement and have mobs trail to create distance.

Divine Protection - Helps you survive a bit longer against those of the Demon/Undead type being you'll be in those areas more than other places that don't consist of them.


Endure - Allows to get out of a mass of mobs you've collected or run into. Also adds 10 MDEF just in case.

Shield Chain

Shield Chain is a powerful skill and was intended to be the Paladin's Dps Build with no potential drawbacks. I know you can argue with Martyr's Reckoning, but Martyr's has a different purpose that I'll explain when I get to it but for now and ever always, Shield Chain is the Paladin's #1 Dps build. Throughout this section, I will also be mentioning Shield Boomerang being they are both calculated the same way and thus should be included. You need a Shield to even think about using this build, if not you won't be getting far at all.
Build
Using Shield Chain when you first get it may be a bit tedious due to the increase in needed Dex for Insta-Cast but don't let this hindrance let you down because you can use different methods/techniques to make this build a Work of Art. The stats that make Shield Chain are primarily Str and Dex, and when you're leveling you'll be focusing on these stats mainly.

Str increases your damage in 2 ways; One being it adds to your Bare Hand attack value. Shield Chain isn't a normal skill that may take the Weapon you hold into account in it's damage calculation, so it doesn't matter what weapon you hold you'll still do the same damage every time. So with that in mind, always get a [4] slotted Weapon, whether it be a Blade/Main Gauche for Aspd or a Pike for range purposes. The other role Str plays, is its value itself. Adding your base and + value gives your total Str and that goes into the damage calculation as well. You'll see the formula when get to Skill Info.

Dex decreases the cast time needed to cast Shield Chain and is also calculated in the Damage formula because Shield is a ranged skill. Taking both the base and + value gives you your total Dex amount. You'll see the formula when get to Skill Info. Another thing with Dex, is it increases your HIT Value which Shield Chain is very reliant on. Sometimes you'll see that your doing Low damage and wonder that can't be right. That is because you are, what I like to say, "nipping" your opponent or barely hitting them, thus you produce low damage. That is because your HIT value is low and you'll need to increase it to hit your opponent more often and do better damage.

For equipment, you'll want to focus a lot on Str more than you would Dex because you want to produce a great amount of damage and Str places a significant. Though the weapon you carry attack value isn't considered in the damage calculation, the shield you hold does. Shield Chain's attack is based on the Shield you hold by its weight. Put it this way, the same way you see Weapons with 120 Attack Power, the weight would replace this, so a regular Shield you buy from a Npc, it's weight is 125, and thus that is the value you'll use when calculating your damage.
Leveling
When using this build to level, there is just one thing I want stress most, is that you will waste Sp when using it, so either bring your Sp pots or be prepared to warp back to town every so often to replenish. Other than that, there isn't anything wrong with leveling in this build. You will need a Shield in order to use this skill so get yourself one if you haven't already. When you first start off you'll notice your cast time is a bit slow, don't let that discourage you. Instead, find use with Shield Charge and knock back your enemy to give you space. Shield Chain is a ranged attack so no need for your opponent to be up in your grill trying to greet you in an unfriendly manner. And if you can, add a few Shield Boomerangs in there to lock them from coming closer. A good method I found very useful when I was leveling was Shield Boomerang 1x/2x before they came, Shield Chain, Shield Charge, Shield Boomerang and Shield Chain one last time. That should finish off any mob and if not keep that pace going until your able to just 1x/2x shot them with just Shield Chain.

You'll want to distribute between Str and Dex moderately when you level while keeping Str at a high end. When you reach about 120ish~ Dex, you should be able to do just fine with that much, add more if you don't feel comfortable with it.
Useful Skills
Shield Chain - A core skill for the build, used as the main damaging skill.

Shield Boomerang - Another core skill. While not as great in terms of damage, it has a longer range and can be used to status opponents before coming for the kill.

Shield Charge - Knock back your opponent to give you an advantage for range. Also adds a chance to Stun them making them easier to pick off.

Provoke - Only useful when leveling because it doesn't lower the Hard Defense from players. Using it on mobs will further increase your damage.

Faith - Allows for additional Hp to help survive with little Vit you have.

Martyr's Reckoning

Martyr - is most commonly used today to describe an individual who sacrifices their life (or personal freedom) in order to further a cause or belief for many. A fitting term for such an amazing skill, and in this case, absolutely punishes your opponent but at the cost of your life. As grueling as it may sound, it is by far a great build, yet I do feel the skill itself has been tarnished here on Essence and with good reason. This is truly a build for those who wish to take punishment while also dealing it, and recommended for those tanking player enthusiasts. Best place this skill would be is in a WoE setting for Defending, but can also be seen in PvP.
Build
Stating for this build is simple, just put into Vit to increase your MaxHp pool which in turn increases your damage. Being this build only relies on your total Hp amount to produce its damage, it frees up a lot of stats to do other things as well. It's common to see the free stats to go into Agi for more Aspd because there isn't anything like producing massive amount of damage while lunging it at consistent rate of speed at your opponent. Also, it would be put into Int in order to recover your Hp because you will lose Hp unless you don't use the skill but what good is that? Whatever it may be you have a, the options are yours.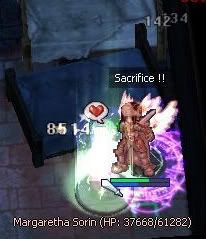 A lot of the Equipment you use will be heavily dependent with increasing your MaxHp or Vit value but isn't to say you manipulate it for those funky builds some like to experiment with:
Leveling
Honestly, I never used this to level cause I saw no good point to it until you were at a higher level. It is possible to level with it but it will require you to take periodic breaks of healing or warping back to town to re-heal. I don't feel that is a good way and that you must be consistent with leveling but as long as you have a good rhythm of doing such a process then you could leveling at a fast rate depending on where you go. In most situations you would require the aid of a Healing class (Priest / Chemist / etc) to make things a lot smoother and faster but with the help of the Essence Warpra and the Healer Dog, you can cut down you time by marginal amount and may not need to search for your True Love...I mean partner. To save you time, it would be a good idea to keep the Heal skill ready (if available) or Potions at your side in case of a dire need of emergency. With that said and having the adequate gear/stats, you are ready to slaughter anything that is in impeding your path.
Useful Skills
Martyr's Reckoning - The core skill for the build. Just remember, the best cards for this skill is 3x Hydra.


Heal - Replenish lost Hp due to skill drawback.

Faith - Provide more Hp for more damage output.

Devotion

Ah, good o Devotion, every party mates True Saviour while your opponents worst Nightmare. In my honest opinion, this is the Best build a Paladin can be in. The kinds of combinations you can do with this build are endless. Devotion is the Paladins best support build and has many skills to make it worthwhile. If you want to imagine what Devotion would be like, compare it to and Air Craft Carrier, a huge vessel housing hundreds of Air Craft to do a single or multiple missions. While also being a housing bay for them, it also acts a support for those Air Crafts so they can continue to do whatever they have to do. That right there could sum up what this build is capable of doing, allowing you to be a Vessel of your own while you have those you protect dish out the needed carnage. A truly remarkable build but highly uncommon to be seen with.
Build
A lot of the Equipment you use will be heavily dependent with increasing your MaxHp or Vit value but isn't to say you manipulate it for those funky builds some like to experiment with:
Leveling
The Devotion build isn't meant for Soloing due to you don't have any good offensive skills especially early on in your leveling days. So it is best to find a leveling partner and that someone would be, preferably, a Dps class. Dps being High Wizards, Assassins Crosses, Scholars, Snipers, Stalkers (if built for it), Clown/Gypsy with Arrow Vulcan, Champs (combo/TSS), or even a Magnus Priest. Your main priority is to help protect/support your party making sure they are alive to dish out that much needed damage, never would you be dealing damage unless the situation allows you to do so. Lots of Skills you can use to help provide a safer means of party leveling, you can assist in damage if you have Pressure, give resistance with Providence, transfer over the Shield skill buffs through Devotion for added protection, or provide major to somewhat meaningful buffs with Gospel. Either way, you are the center of the party to help it get through whatever is ahead. Also, realize your going to be the one who is taking the damage, so take precaution to your Hp at all times.
Useful Skills
Devotion - The core skill for the build. Makes your party happy by taking damage for them.


Heal - Replenish lost Hp for taking the brunt of all attacks in party.

Faith - Allows for more Hp to help tank for your party.

Pressure - Additional means of dealing damage to mobs. Great for PvP/WoE to neutralize your opponents Sp pool.

Gospel - Provide temporary buffs to your party for better performance and survivability.

Providence - Provides party members resistance to Holy and Demon attacks. Great for leveling.

Shield Boomerang - Can be used to distract mobs off your party members while they focus on kill others.

Leveling Spots
In this section you'll get a list of various spots you can level up your Paladin at levels that would be comfortable for anyone. You don't need to go by this exact guide cause some may find it easier to go somewhere else than others or maybe go somewhere else earlier than what the levels here are listed as. These are estimates cause nothing is perfect, which is why there are multiple places instead of just one. It's a matter of preference and what you feel is comfortable but always look back onto this if you are unsure as to where to go next or maybe get an idea. Also, you could mix up your leveling style, like for instance; you could be leveling with Grand Cross at the beginning of your leveling days but may switch to Shield Chain. Again, matter of preference or comfort-ability. If you did go by something in this but may have done it a different way, please feel free to share. Enjoy!
Spear Quicken
When using this build are mainly just regularly attacking, just skills but not limited to just regular attacks. Skills are more than welcome but you will lose Sp. Remember to bring Awake Potions or Berserk Potions (Lvl 85) according to level.
High Orcs

Come here for a good rate of Base and Job experience. With your high Agi value they will find it hard to hit you unless they mob you. If they do, Bash them one at a time or if it gets to hectic, just run away and pick them off one by one. Alphsiess is a must if you don't have one already. If you have a Sage friend, ask him for a Water Element Endow or use Box of Storms/Water Converters.

Location: gef_fild14
Bathory's

These guys are also great Base experience but a little low on the Job experience. If you have the Alphsiess, as recommended, you should finish these off fairly quick. Use Holy Cross to finish them off faster if need be. You should be able to snag a Bathory card that would be very beneficial later on.

Location: alde_dun04
Seals

These guys do hurt if they do hit you but should prove to be adequate experience at your level. I would suggest not to get mobbed. Wind Endow would put quick work to them if you have that available.

Location: cmd_fild02
Vanberks and Isillas

This lot is easy to handle. They don't give the greatest of experience but they have good drops you can get that will help later on or possibly another character.

Location: ra_san01
Anolians

These are a better alternative to Seals if find that place a bit difficult. Anolians are more spread out so you won't find it too mobby and you Rarely see anyone else, so you should have the map to yourself. Again, Wind Endow works best on these guys if available. Be careful of the Pests that are there, they are very annoying.

Location: cmd_fild03
Hodremlins and Seekers

Hodremlins can hurt at times and Seekers are just a pain in the ass because of their Dispel skill and draining your Sp. Try to focus more on Hodremlins, they give the better experience but if you do run into Seekers, make quick work of them or they'll screw you over. Both of these mobs cards are very decent and should be well enough rewards when dealing with this place.


Location: ra_san03
Anubis

Yeah, these guys are used and abused the most but non the less they give a great amount of experience, Base and Job alike. Alphsiess is a definite if you choose this route, more damage to Demi Human and a chance to cast Pierce which would hit for 3 times against Anubis. A good technique I used was to use up half my Sp Holy Crossing them and then other half regular attacking. That allows you up to 2 Anubis's before you have to go to back to replenish Sp if you had no Int. The Minorous's and Pasana's should prove no threat unless they start to mob, and be mindful of the Mino's Hammerfall, with no Vit it is very easy to stun. If you have a Brionac, you'll see better results than you would a Ahlspiess would do.

Location: in_sphinx4
Skelings

Basically, the number one spot for leveling any character and in this case your Paladin. These are great to go against being they are Demon class, your Holy Cross will tear through them. They do hurt though and if you got a Bathory card (from Bathory leveling) or even better, if your soloing, a Evil Druid, their Dark Grand Cross won't even touch you. Pretty safe to say you'll be here till Level 170 unless you find Ice Titans a bit better for you. Also, Brionac would prove a lot better than anything else, and you wouldn't have to have a Aspersio slave as well so it'll save you time from going back to town every 3 minutes or so.

Location: gef_dun04
Ice Titans

Recommended to have that Alphsiess, if not I wouldn't come here. Ice Titans have incredible defense so you won't scratch them if you don't have one or your not in a Crit build. Be careful of the Gazeti's, they are a nuisance. Wind Endow works wonders here.

Location: ice_dun03
Skelings

Same method as a above, you'll most likely be here more than anywhere else.


Location: gef_dun03
Ice Titans

Same method as above. They still give a good amount of experience here at this level, and still higher than Skelings.

Location: ice_dun03
Thor Dungeon

Eh, this place can hurt if you don't have proper gear and that I mean bring a Pasana. Also, since you don't have your Shield skill buffs, Kasa's Spiral Pierce and Salamandr's Sonic Blow will hurt, if not kill you when they hit. Go here at your own risk but the experience is a trade off. Make sure to have some type of Water Endow. Bash Salamandr's, they will Stun and you can normally attack Kasa's, they aren't much of a threat. Don't attack Sword Masters, their reflect will kill you before you can kill them or get them half way. Bow Master's are a different case, attack them if you want but remember you don't have Defender.

Location: thor_v01/02
Abyss Lake

This place also had an experience boost so you could have this as an alternative than Skelings or Ice Titans. Mobby though so be careful.

Location: abyss_lake02/03
Thanatos Tower

A bit easier than Thor but lower experience. Bring Cursed Waters for Shadow Endow on the few Angel types and use Holy Cross on those who are Demon. Be mindful of the Thanatos Spirits that lurk on the floors.

Location: tha_t07-11
Grand Cross
Working with whats best for Grand Cross, you'll be in a lot of places that have you dealing with Demons or Undead. A lot of them like to Curse and Silence you so be sure to bring items to cure that such as Royal Jellies and Panacea's.
Raydric's and Kalitzburg's

Great place to practice your Grand Cross. Kalitzburg's move slow so gives you ample time to cast Grand Cross and have them catch up. Raydric's on the other hand move fast but they should fall to your Grand Cross in one shot.

Location: gl_knt02
Bathory's

They give great experience when mobbed, but are quite the utter annoyance due to their Movement Lock skill which makes it hard to even gather that much but they prove no threat as far as damage. Make sure to carry some Panacea's or Royal Jellies to cure Silence.

Location: alde_dun04
Niffelhiem Field

Decent experience but very mobby. Loli Ruri's and Bloody Marauder's will give you the most experience but both equally the most worries. Best to not gather to many of their kind.

Location: nif_fild02
Anubis

Grand Crossing Anubis is pretty easy but you may need to go back to town every time you run into one cause they will hurt you. Don't worry about the Minorous's or Pasana's, they will fall to Grand Cross fairly quickly if not in one shot.

Location: in_sphinx4
Guild Dungeon 4

This place is ok but quite annoying with the Deviruchi's and their Jupitel Thunder which knocks you off alignment with Grand Cross. Wraith Dead's aren't exactly too friendly either and have loads of Hp so it may take awhile to take them out. Dark Illusion's wonder down here, so don't run into them.

Location: gld_dun04
Skelings

When you first come here, it would be best to start off with just getting one Skeling at a time, cause they do move quick and strike hard. If you had gotten a Bathory card when leveling at Bathory's (if you did so) then equip it cause Skelings cast a skill similar to your Grand Cross but of the Dark Element. Wearing Bathory negates Dark Grand Cross attack and won't hurt you.

Location: gef_dun03
Abbey Dungeon

A very mobby place with lots of End Game gear you can get to refine later or sell of by Merchant. Adequate experience for the level of difficulty this place is which isn't to hard. Watch out for the few Ragged Zombies, they have ranged attack which makes it difficult to use Grand Cross on them and other mobs you may have around you, so to get rid of them, you can Heal bomb them or just use Grand Cross.

Location: abbey_01
Skelings

With proper gear you should be able to kill Skelings in 2 Grand Crosses and would be best to mob them but not too much cause they do hurt but you should be able to tank 3-4 of them at a time. Be mindful of the Wind Ghosts, dispatch them quickly cause they are very annoying with Jupitel Thunder and can knock you out of alignment with Grand Cross.

Location: gef_dun03
Abbey Dungeon

These levels of Abbey will be a bit tougher than Floor 1. Zombie Slaughters can hurt in numbers and they have Sonic Blow which is very painful whilst they do it under your Grand Cross casting, but you should be able to Train them into Grand Cross. Necromancers are a pain but hurt severely by Grand Cross. They summon Zombie Slaughters so be mindful of them but there are few Necromancers on the Map. Plentiful of Ragged Zombie's though so make quick work of them.

Location: abbey_02/03
Shield Chain
Shield Chain/Boomerang leveling is fairly easy and quick, depending on your Sp and cast time. Make sure you have a Shield and if you are just starting out, you'll want to get a Stone Buckler (as mentioned in Skill Section of Shield Chain). Get a good enough refine on it, which would be +6 or better. Won't be the best of damage but will do. For even better damage, I will mention what cards you will need to have for the specific area. There 2 combo's you can use and that is the 3:1 and the 2:2 combo setup. The 3:1 will basically consist primarily of Racial/Element = 3 and then the Size card would be left. The 2:2 is primarily of Racial and Elemental cards only and the best combo would be of anything (and over 3:1 combo) is 2x TG: 2x Racial or Elemental. Also, have Shield Charge and Provoke ready on your Hot Bar, you'll will need these skills at some point.
High Orcs Fairly easy to kill in 2 Shield Chains, one if you add Boomerang first or Provoke them. Location: gef_fild14 Cards: Hydra 20% Demi-human, Skeleton Worker 15% Medium Size
Bathory

Same as High Orcs, should be able 2 shot them if not 1. Might not need Provoke as much cause it is mobby and you'll be wasting Sp if you have to keep Provoking every single Bathory that is there. Be mindful of the Jokers and Whispers. Magnum Break to knock Whispers out of cloak and give you a temporary Fire Endow to be able to hit them.

Location: alde_dun04
Cards: Hydras 20% Demi-human, Skeleton Worker 15% Medium Size
Vanberks and Isilla

They move slow, so you shouldn't need to use Shield Charge unless you get mobbed. Provoke Vanberks they have high defense - 24, while Isilla's have low Defense - 11.

Location: ra_san01
Cards: Hydra 20% Demi-human, Skeleton Worker 15% Medium Size
Anubis

Not particularly the best area for this level to go with Shield Chain but Anubis does give good experience, so if your willing to endure to go back a few times to replenish Hp/Sp then this is where you'll want to be. Shield Charge him back and use Shield Boomerang to bring down his Hp, use Shield Chain once he gets close and repeat with Shield Charge again if needed. Don't get mobbed by Minorous's, they can stun and will get you into trouble if you do sub come to that.

Location: in_sphinx4
Cards: Hydra 20% Demi-human, Minorous 15% Large Size (Hopefully you can get one while down here)
Hodremlins

Easy place to level at. They move pretty quick but shouldn't be a problem. Seekers on the other hand will Dispel and drain your Sp, which you do need so stay clear of them.

Location: ra_san03
Cards: Santa Poring 20% Shadow/Dark Property, Strouf 20% Demon, Skeleton Worker 15% Medium Size
Anolians

They are about the same as Hodremlins but without that annoyance of the Seekers. Instead you got Pests to annoy you. But they should die in one Shield Chain. Anolians are pretty spread out on this map but there are a good number you can find, so if you find it a bit exhausting just walking you can Fly Wing around which would be more consistent in terms of experience/hour.

Location: cmd_fild03
Cards: Flora 20% Fish, Drainliar 20% Water Property, Skeleton Worker 15% Medium Size
Echio and Agav

They move slow but not as slow as Vanberk or Isilla. Provoke them for more damage and Shield Chain away. Bring Panacea's/Royal Jellies Agav likes to Silence. =[

Location: ra_san02
Cards: Hydras 20% Demi-human, Skeleton Worker 15% Medium Size
Skelings

With no Vit at the beginning they can bring your Hp down quick so it is best to keep them afar with Shield Charge and Shield Boomerang. Provoke them cause you'll need to do the most you can, they have a lot of Hp. And definitely don't get mobbed, Lol.

Location: gef_dun03
Cards: Santa Poring 20% Shadow/Dark Property, Strouf 20% Demon, Desert Wolf 15% Small (If don't want to manage the Stroufs, Desert Wolf is your next option)
Skelings

Around this level you should have enough Dex to cast sufficiently and Str to do enough damage so you should be able to put into Vit for added Hp to survive longer. But do the same as you have been.

Location: gef_dun03
Cards: Santa Poring 20% Shadow/Dark Property, Strouf Demon, Desert Wolf 15% Small Size
Martyr's Reckoning
I won't mention between 70-110s cause Martyr's is basically useless at low levels for leveling. At these stages you'll still be getting your Skills or at least the important ones like your Shield buffs. So you can use the other builds to level off of until then. Devotion is a good start to developing your stats for Martyr's so you would be better off going that route until you have all the necessary skills to make Martyr's useful. I will say this though, you may need to travel back to town a few times in case it gets to hectic and your badly wounded that Heal would just be redundant to use. Leveling with Martyr's is awkward at most but gets the job done quick. To make this build even better, you could get a Bard friend or Duel Client for Apple of Adun for added Hp. =]
Skelings

Getting the Strouf/Santa Poring combo will make your Martyr's more fruitful and have you save your Hp in the long run. Make sure to have Heal, no doubt you'll get mobbed so you need to Heal yourself from time to time unless you warp back to town.

Location: gef_dun03
Abyss Lake

Gives good experience and you should be able to get off 1-2 Martyr's before you'll need to Heal up. It is very mobby though so over do it.

Location: abyss_03
Lighthazlen Dungeon

This place is very mobby and the sad part is you'll really be looking for just 2 mobs and that is Eremes Guile and Margaretta Solin, that is if she hasn't already Assumptio'd herself or Eremes, if so you'll have to move on. This is the only place that gives adequate experience that is doable by Martyr's build. Good luck.

Location: lhz_dun03
Devotion
This is your party build and you'll most likely be focusing on leveling spots that are more towards your partner than yourself since you can't attack other than Pressure and maybe Martyr's if your feeling risky. When you are in this build, you are able to go to places a lot quicker due to your aid of Support/Heal, but do plan out before you go anywhere procedures to any situation you may encounter at a specific spot. Even though you'll be taking the brunt of all the damage, it is still unsafe to Mob in large quantities. If you have Providence in your Hot Bar, places you can go for better success would be those that have Angel/Demon type mobs such as: Gefenia (all levels), Thanatos Tower, Niffelhiem Fields, Guild Dungeon 4, and Geffen Dungeon 3. Depending on your level and party type, those are places you'll most likely want to visit but are necessarily the best choice.
Other Skills of the Paladin
Well, plain and simple the other Skills that I have not mentioned in the builds in full detail will be mentioned here but only briefly. First and foremost, I want to point out the skills that make the Paladin a force to be reckoned with and those skills are the Paladins Shield skills buffs and these include Auto Guard, Reflect Shield, Defender, and Shrink. These 4 Skill Buffs make it quite difficult for most classes to coupe with even dealing with the Paladin and are used commonly in any activity the Paladin plays part in. Do mind though that when using the Agi Spear Quicken build, that you are unable to use Shield Skills due to no shield being equipped. Most of the skills you will see would be obtained when you were a Swordsman but those are skills are just as much useful as when your a Paladin/Crusader. Last but certainly not least, you have the Paladins other skills:
PvP with a Paladin
In this section I will show you how to go about fighting other classes you may see in the PvP Room. I gave this section some thought on what I'm going to talk about and it's really only going to be just Shield Chain and Martyr's. All the others aren't worth the time to discuss how awful you'll be defeated or is either reliable with other players around like Devotion. Spear Quicken has no way of defending for yourself and you can be trampled by any class that can easily make you stand your ground or has higher damage output which will happen in most cases. Grand Cross is just an awful skill for 1 vs 1 Duels and is more useful in WoE than PvP. So I will just discuss about Shield Chain and Martyr's Reckoning. =[
Shield Chain - This build can win most of the time against a LK if don't just spam just Shield Chain. For any LK put up Auto Guard and Shrink, this will annoy them to no end and keep some distance for you to Shield Chain them. If the Lord Knight is a Spiral Pierce build, put up Defender to reduce their damage to nil and keep the damage on him. If he Zerks, Shield Charge him to keep him away from you and Shield Chain when needed and eventually they will drop. Bowling Bash can hurt so don't let them smack you too much with it. Set up Reflect Shield to give them a taste of their own Medicine. A good measure to keep them at bay is to wear Status Armours like Dark Frame, Sasquatch, and Rybio, but only if you know they don't have a lot of Vit and if they Stone Curse/Freeze, let them sit in there while you replenish your Hp. You can use Status Weapons as well and use Shield Boomerang to proc those effects for better results.
Martyr's Reckoning - Being it takes away your Hp always be mindful of your Hp but if you fight smart you will win. Your usually allowed up to 3 casts of Martyr's before you have to Heal your Hp but considering your going to take a beating make it about 1-2 casts. Never let the Lord Knight out damage you/do considerable damage or your done for. If you have Status Weapons, use them with Shield Boomerang to give him something else to worry about. Pop up Defender if they are Spiral Build and Reflect if they use Bowling Bash. Martyr's away when you feel they are vulnerable. Use Status Armours to throw them off guard. Pressure to take away at his Sp and do bits of damage.
Shield Chain - To make this short, just don't fight another Paladin with Shield Chain, they can reduce your Shield Chain with Defender and you'll both probably will be Pressuring each other unless they are a Martyr's build which will prove even more difficult. They have more Hp and can produce more damage to you unless you are Neutral resist heavy. Not that fighting another Paladin isn't possible just tedious or if either one of you screws up it can be over. But to give you some insight, Status will be handy, Shield Charge Martyr's Pally so they can't hit you, they'll be slow with Defender so you can Boomerang them from afar with statuses. And if they do release Defender just to catch up, gives you a chance to Shield Chain but be quick.
Martyr's Reckoning - You'll have the upper hand on a Shield Chain Paladin but can still lose if your careless. Keep pressure on them so they can't do anything and also cast Pressure to dwindle their Sp. Against another Martyr's Pally, its basically who screws up first or gets lucky with Auto Guard. Make sure to keep your Hp high and strike only when they are vulnerable. Pressure them to dwindle Sp so they can't Heal. But do be careful of their Pressure as well.
Shield Chain - Wise to wear Mdef gear or Magic Resist gear to reduce their damage. Wear Unfrozen Armour so they can't freeze you with Storm Gust and then Amp Jupitel Thunder you. If they see their damage won't hurt you, they will either JT or even Magic Crasher you. Just be careful when they do. If you can't get close use Shield Boomerang, it'll hurt them. Use statuses like Stun but most do carry some Vit on them so be quick when they do Stun and do your damage then. If you have the gear to withstand their damage, you'll win hands down.
Martyr's Reckoning - Will usually obliterate Wizzies after a few hits. Most are smart to put up Safety Wall so don't attack if you see that. Having the Magic resist gear/Mdef will save you more than not and just be patient until they screw up and you'll get your chance to strike.
Shield Chain - Same as High Wizard carry Mdef/Magic Resist gear but this fight will prove a bit more difficult with their ability to disable you quite a few number of times. Most use Fire Bolt as an overall skill but don't be surprised if they have Cold Bolt or Lightening Bolt. They will Dispel you but it doesn't really effect you much other than Endure for Mdef. Just re-apply that. Soul Burn can be a fight changer if it doesn't back fire on them, so be sure to have Sp pots. After they Soul Burn they will come up close to Stone Curse, so switch to Medusa if they come up or Shield Charge them away. Once they know your Shield Chain, they will most likely Safety Wall/Wall of Fog combo on them so you can't knock them out of WoF and you can't hit them with Shield Chain. So you can do 1 of 2 things, go in the WoF with them so their bolts will have a hard time hitting you but they will Stone Curse you if you do come in so wear Medusa, or you can just get out of range to have them come out but don't count on this, Lol. If they Cobweb you, Magnum Break out of it or Shield Boomerang them. A Battle Prof will prove easier since they have to come up close, so throw on Auto Guard and Shrink, that will teach them.
Martyr's Reckoning - Again, carry Mdef/Resist gear. Dispel will take away your Martyr's if you have already casted it, so be sure to recast it. They can and will Safety Wall you and also use WoF to protect against your Shield Attacks. Either run out of range if they do combo or go in the WoF with them but be mindful of Stone Curse. Also, they love to Cobweb and use Lightening/Cold Bolt skills so you take damage and still stay in place. Magnum Break out of it and keep pushing your way towards them. They will Soul Burn you so you can't use Heal for lost Hp, so carry Sp pots.
Shield Chain - Shield Charge them so they can't get close. Either build of the Smith, Agi or Cart Termination, aren't pleasant to deal with. Being you have low Vit, Stun will come in from CT or Hammer Fall and CT just hurts period and Auto Guard doesn't protect from it. All Agi build Smiths will more than likely have Guillotine, so put on Evil Armour to negate that or Shield Charge them so they can't hit you. They also have Melt Down so this will more than likely break your Gear if you don't have them protected. Fighting either one is a bit of luck on your part to keep them away and Shield Chain them when possible so they don't get the best of you.
Martyr's Reckoning - They can stack Neutral resist well with gear and passive skills they have so you might not come on top. Plus with the additional Breaking of weapons and armour may prove difficult to kill them unless they screw up somewhere. Auto Guard and Shrink to knock them back so they don't barrage you with waves of CT or possible Comas. Again, a bit of luck on your end whether you survive Comas or the damage from CT.
Shield Chain - Not someone you want to pick a fight with whether your a Martyr's build or Shield Chain. Acid Demonstration just hurts but with lower Vit than your counter part, they shouldn't do nearly as much damage. Stack ranged resist so it doesn't hurt you as much and no Defender doesn't affect it, so don't apply it. Watch out for Demonstrations for you weapons and armour from Acid Terror. They will most likely use Plants to trap you and then AD from afar, if you get caught in one, well your just screwed lol, so be sure to Shield Charge plants away from you. Also stay away from Marine Sphere's or Shield Charge them away from you.
Martyr's Reckoning - Doubt you'll win if they get you in a Plant trap or your weapon breaks from Terror or Demonstration. So be sure to come at them quick and get rid of them quick so they can't hurt you too much. Shield Charge plants and Marine Spheres so you don't get caught or take major damage. Best of luck if you start scrap with a Chemist, Lol.
Shield Chain - Only problem you will have with Sinx's is there Flee, so carry as much Hit Modifiers as possible so you don't miss but when you do land a blow it will hurt them being most don't wear Cranial Shields. Auto Guard, Reflect, and Shrink for DD Sinx's and Defender for Soul Breaker and wear Unfrozen or Undead against SBK Sinx's, they like to freeze you and lay Poison Cloud on you to reduce your Hp. Also, some use Enchant Poison to negate Immune Property from Raydric and with ED on, it'll reduce their damage. You shouldn't have to worry about Grimtooth Sinx's with Defender on so just Sight them and proceed to SCing them. Sonic Blow won't prove too much of a problem either unless they want to be a dick about it and Edp + Link that shit then there is something to worry about but know deep down inside they can't beat you any other way so technically you won. =]
Martyr's Reckoning - You won't have to worry about their Flee being Martyr's always hits unless they stack Perfect Dodge but they can't dodge them all so your bound to win either way. Soul Breaker on the other hand can prove difficult if they use Status, like freeze so be sure to wear Unfrozen or Undead as mentioned above. DD will more than likely die themselves if they start attacking, you have more Hp than they do and Reflect will hurt them. Nothing to worry about Grimtooth as mentioned above.
Shield Chain - Depends on what they have as a Skill that will determine how to fight them. SG wear Unfrozen and Water Resist so they can't freeze you or hurt you. Jupitel Thunder is common among them, so slap on Wind Armour or High Mdef and you won't have to worry about them. Sacrifice can hurt but it'll hurt them more and they have no way of healing themselves. Chase Walk and Hide will prove to be annoying when fighting them. Sight for Hide and use Magnum Break for Chase Walk. Watch out for Strip even though it'll be a lot harder for them to do with your High Dex but it is still possible so don't them do it. Even if they do Strip you, Gospel if you have it to get rid of the effects.
Martyr's Reckoning - Same advice as above, defend yourself according to their build type. SG wear Unfrozen and JT wear Wind Armour or high amounts of Mdef. If you don't have Dex because you figured you wouldn't need cause you can Hit all the time, you are very easy pickings for Strip so don't let them do it. Gospel if they do and put your gear on quickly. Against a Martyr's Stalker, just let them attack you first and some if not all with miss with Auto Guard and then proceed after them to show them how its done. Also, never wear a Sword/Dagger type Weapon against a Stalker, they can halve your damage of Martyr's and reflect it back to you. X_x Your better off with a Spear for range.
Shield Chain - Being you have the best defense against them which is Defender, it will prove difficult for you to lose, but with their Traps and Charge Arrow/Phantasmic Arrow Skills it will be difficult even getting to them. Persevere with the knock back or take off Defender to get up close but it leaves you vulnerable to their attacks so your choice in what you want to do. You'll most likely be Shield Boomeranging them which still hurts them cause they have no Shield but the knock back is still a pain. Falcon Assaulter's can hurt you quite a bit but you should be able to spam Boomerang faster than they can and eventually they will drop.
Martyr's Reckoning - Same advice as above but without Shield Boomerang since you won't have enough Str or Dex to even scratch them. Persevere with the knock back and eventually you'll get them with Martyr's.
Shield Chain - Defender again will save you more than not against Arrow Vulcan. Be mindful of Tarot builds, they can hurt pretty bad like breaking Armour/Weapons, Comaing, and various Status affects. Wear Unfrozen for Clowns and Nightmare card for Gypsy's so they don't freeze/sleep you or they'll molest you other wise. =[ Bathory blocks the Coma from Tarot but without protection to Armour you'll probably lose it. Be sure to take care of Clowns/Gypsies quick so they don't do their worse at the beginning. They may switch to Bow type so they can knock you back so be careful of that as well, if they do Shield Boomerang them since they won't have Thara anymore.
Martyr's Reckoning - Same advice as above, just get rid of them quickly with Martyr's and watch out for Tarot.
Shield Chain - A waste of time to be fighting this lot. Make sure to have a Archdam so they can't hurt you with Holy Light spam. They'll Decrease Agi you more likely than not so just Shield Boomerang them if they get to far away. Pneuma will block it though so you have to get up close to knock them out of it. They can also Silence you so bring Immunity or Panacea's/Royal Jellies. If they wear Status armour like Pest, don't wear Undead, they can easily just Turn Undead you or Magnus you which will hurt if not kill you. Better to wear Medusa or Seeker. You can use Pressure to lower their Sp so they can't use Heal on themselves.(Thanks to WuFang for this info)
Martyr's Reckoning - Same as above but instead of Pneuma, they'll use Safety Wall. if you can use Shield Boomerang on them or Pressure to make them get out. You can use Pressure to lower their Sp so they can't use Heal on themselves.
Shield Chain - Defender will save you against the onslaught of TSS spam, so Shield Chain them until they put up Pneuma. From there you can do 1 of 2 things, Shield Charge them or Bash them to Stun them. Either one works, mix them up to throw them off guard. Once they realize they can't kill you, they resort to Asura, make sure to Pressure them so it won't hurt you as much and may just kill them from Reflect Shield which you should have up by the way, for Asura and Push Palm Strike. Shouldn't have to worry about Blade Stop unless they catch you while Bashing them, from their they'll Asura but should kill themselves as well. Occult Impaction may be another thing they do but it shouldn't hurt you too bad due to low Vit, and it'll reflect on them while your still Shield Chaining them.
Martyr's Reckoning - You have a huge advantage over them with Hp and Defensive capabilities. They'll usually just Snap around until they can get a good chance to Asura you even if they die as well but hardly not. Pressure them for good measure and Martyr's when you feel like it, Lol.
Shield Chain - Won't have to worry about the Melee so much with Reflect Shield on and Auto Guard/Shrink. Magic will prove difficult if you don't have Mdef/Magic Resist gear. Pressure them so their Energy Coat wears out from lose of Spl, so they can't do anything. From their proceed to Shield Chain, and watch out when they Stone Curse which most do. For safe measures, have Unfrozen so they can't Frost Driver you as well.
Martyr's Reckoning - Energy Coat on top of their resistance will prove difficult the most. Pressure them to wear down Energy Coat and their Sp. From their Martyr's them for the final blow. Make sure to watch out for Stone Curse/Frost Driver. Wear Mdef/Resistance if they are magic to reduce their damage.
Shield Chain - A difficult class to fight, especially with Throw Zeny which isn't reduced by Defender. You'll mostly be using Pressure to deplete their Sp pool, so they can't do much with their defensive skills. Ciceda Shell is annoying so don't bother with Shield Chain, your better off with Shield Boomerang for spammability but still not worth the effort, stick with Pressure and you should come out on top. For those Magic Ninjas, wear Mdef/Resist to reduce their damage.
Martyr's Reckoning - Ninja's will prove difficult with Martyr's, so your better of with Pressure if you have it. Until they are unable to do anything use Shield Boomerang to take off Ciceda and then proceed to Martyr's.
Shield Chain - These guys can stack Perfect Dodge better than anyone, so be mindful of those builds. Other than that, slap on Defender and go to town with them. ;D
Martyr's Reckoning - Same as above.
Shield Chain - Considering the TK is a Ranker chaining their kicks is what you want to disturb the most and several ways to do that is to wear Status armours or Shield Charging them away. They will Flying Side Kick back to you but don't let them continue their kicks. Throw up Reflect to their damage. Rankers will have more Hp than if they are built correctly which could be a big problem but aren't that tough. Also, Break Fall will be annoying as hell. =[
Martyr's Reckoning - They may have more Hp than you which will be a big problem. Even with reflect that you have, their Hp can still out surpass you when your also Martyring them. Also, Break Fall is a bitch if it procs making you lose even more Hp per Martyr's hit. This isn't a definite win situation but you can win if done correctly or they screw up.
Shield Chain - Only problem with them is their Sp drain, Shield Charge them back so they can't keep constant damage or draining on you and you should come up on top. Reflect Shield works wonders on them.
Martyr's Reckoning - You should be able to dispose of them quick with just Martyr's so have at it, if not well just make sure they don't drain your Sp and have Reflect on.
Shield Chain - Estun will prove difficult to counter, but Soul Linkers aren't tough unless they are dicks and spam Kaupe so Shield Chain won't hit them. =[ Use Cure for Eswoo effects the knock back is only minor and should still be enough to use Shield Chain from afar. Being they have 7 Elements to choose from, you can either stack Mdef or use Frus card for a chance to reflect their damage back at them instead of pure resist to an element.
Martyr's Reckoning - You'll most likely lose if they spam Kaupe on themselves. Use Cure for Eswoo, but knock back may prove difficult since you have to be close. Persevere and Shield Boomerang them to get rid of Kaupe.
WoE with a Paladin
In this section I will discuss the roles of the Paladin in Offensive and Defensive Sieges. All the build's will be mentioned here since they can all be applied here without much of a repercussion as you would see in PvP. The overall role of the Paladin in WoE is more of the Supportive Defensive style, which entitles you to be more party oriented and stay within a group. Paladin's by themselves are easy to pick off when they are against a group, but is different when 1v1 with someone but is highly unlikely due to WoE is more about Guilds than single battles.
Offensive Role
This isn't particularly a favorite build for any Paladin to be using in WoE but is still use-able. When on the Offense, you'll be wanting be taking out the squishy players first such as Mages, Snipers, Slingers, etc. Even though you don't have the ability of your Shield Buffs, you'll still have the help of your Guilds mates/Allies to back you up. Spear Quicken can also be used as a Emp Breaking build but is no where near par with Assassin's Double Dagger builds but still is worth a shot. Not be used for solo purposes. ._."
Shield Chain is a great Assaulting build that can take out just about anyone, aside from other Paladins. Very great for Multi Purpose missions when Assaulting. Is a great asset when partied with others. Is mainly an supporting attack skill than pure damage but it does have it perks. You'll want to focus on more of Support attacking than straight 1v1 or more matches. Go for the squishies and neutralize those who may prove a threat to you or your team mates, i.e. - Champs, Pressure them so their Asura doesn't hurt anyone.
This is more a Defending type build but when Assaulting you'll want to focus on the enemy players that are easily singled out or very prone to attack, like Snipers and Wizards. If you get surrounded by enemy players it is best to just run. You won't survive while also trying to do damage with a skill that takes your Hp as well at a great rate. x_x
Another build that isn't for Assaulting but is do-able. Focus on the weaker players to get rid of and be on the lookout for Sinx's who want to pick off your team mates one by one. You'll more than likely be the tank when first siegeing the the Emp Room.
Great build to protect your main Assaulter's like Sniper's/Wizards. Make sure to keep Devotion up on your Team mates and be mindful of those trying to disrupt your siegeing party like Sinx's. Make sure to have all your Shield Buffs on so your party will be immune to just about everything.
Defensive Role
Spear Quicken is more a scouting build when your on the Defensive. Patrol outside of Emperium Room for anybody who shouldn't be in the castle and dispose of them.
You can help patrol the castle for anybody straggling or help defend entrance of Emp room or defend at the Emperium for those who break through.
Stand at spawn entrance to Emp room and Grand Cross anyone who comes through unannounced. Or can you stand by Emperium and do the same, and works well on those Sinx's or anyone wearing Undead Armour and make quick work of them in seconds.
Main priority is at Emperium picking off those like Sinx's who break through defense and dispose of them quickly before they have a chance to break Emp.
Stand some where out of harms way and preferably near a few Priests so they can assist in Healing while you are busy taking the damage for you team mates. Make sure to Devotion those who are very vulnerable to heavy attack like Wizards from Snipers and vice versa. Your job is keep pre-cast and trappers alive so they can continue to do their job effectively without worry of ever dying.
Closing Credits
Just want to give Thanks to everyone that has helped me in the making of this guide and also to Essence for making this Guide possible. A lot of work was done into making this, lot of testing of certain aspects to make it all fit together so it would be better understood by those who are just starting out or for those who may need clarification on a few things. Took me a good 1 month to finish this Guide, all due to a bit of laziness and that fact that I had work on it with no Internet in the early mornings of 2-4 Am, Lol. I enjoyed making this Guide and I have learned a lot of things I would have not known earlier or have forgotten due to all the knowledge I have gained through out the years of playing RO. I hope everyone else can enjoy this and can get something out of this guide.
Skill Icons and Charts were taken from RMS for visual aids.
If you have any questions on anything I may have missed please post here, or you can ask me in game (just look in the Signature for names of my Characters), or Pm me on Forums so that I can fix it in the Guide. Most of the information you see is a bit of Pure Information and Pure experience, nothing made up or far fetched.
You will also find the Orginial Paladin Guide on the eRO Forums.